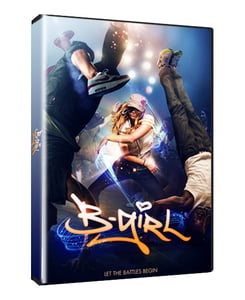 $

15.00
B-GIRL tells the story of a brilliant young female dancer from New York City forced to find her inner strength through Breaking.
The film stars Jules "Lady Jules" Urich (BEAT FREAKS - MTV America's Best Dance Crew, STEP UP 2, YOU GOT SERVED) and Wesley Jonathan (ROLL BOUNCE, CROSSOVER, What I Like About You), Drew Sidora (STEP UP, WHITE CHICKS) and many of the most elite b-boys in the world, including Ivan "Flipz" Velez (STOMP THE YARD, HONEY, YOU GOT SERVED, STICK IT), Legacy (Top 8, So You Think You Can Dance), Oren "Flea Rock" Michaeli, Keith "Remedy" Stallworth, Richard "Steelo" Vazquez and Rynan "Rainen" Paguio (MTV America's Best Dance Crew Winner, JABBAWOCKEEZ).
B-GIRL features some of the most creative B-Girling, B-Boying, Salsa, Free-running and Lyrical Hip Hop dance combinations to be found on screen.
"Our first priority was to make this film truly authentic (though fictional)," said director Emily Dell. "The film stars a b-girl and incredible b-boys in all the dancer roles; we never used a single dance double."
Actors: Julie Urich, Missy Yager, Wesley Jonathan, Drew Sidora, Ivan 'Flipz' Velez
Director: Emily Dell
Format: AC-3, Color, Dolby, Dubbed, DVD, Subtitled, Widescreen, NTSC
Genre: Dance
Language: English
Subtitles: English
Number of discs: 1
Rating: PG-13 (Parental Guidance Suggested)
Studio: Screen Media
DVD Release Date: January 26, 2010
Run Time: 88 minutes
ASIN: B002UJIY0M
NOTE: This DVD is NTSC Region 1; designed for US and Canada and so will not work in international DVD players.
For wholesale orders, please email us at wholesale@bgirlmovie.com.