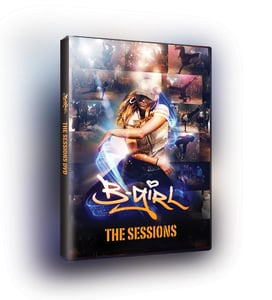 $

10.00 - On Sale
THE SESSIONS DVD brings you more from the world of B-GIRL. For any dance lover, this DVD is full of new material from the world of B-GIRL. The DVD includes:
The Dance of B-GIRL
- Brand new documentary on the dance in B-GIRL featuring our choreographers, filmmakers and stars talking about breaking, salsa, free-running, and more
Cypher Sessions
- See our casts' best moves behind the scenes, in front of the cameras, in rehearsals, and more! Up close and personal with all the dance we couldn't fit in the film.
 Jules 'LADY JULES' Urich (ANGEL)
 Ivan 'FLIPZ' Velez (TRECE)
 Jonathan 'LEGACY' Perez (RICO)
 Keith 'REMEDY' Stallworth (JUNIOR)
 Richard 'STEELO' Vasquez (SILAS)
 Oren 'FLEAROCK' Michaeli (TEJON)
 More Cast
Road to the Champions
- Follow B-GIRL cast as they travel to England for UK BBOY CHAMPS 2009. See what it takes to plan, battle, and win a major international crew title. Featuring Beastmode, Flipz, Flea, Spee-D, Venum, Cloud, Lil' John and Luigi.
B-GIRL Official Trailer
B-Girl Instructionals
- Learn b-girl and b-boy moves from the B-GIRL online video contest with star Lady Jules
'The Lone B-Girl' Webisode
Name: B-GIRL ~ The Sessions DVD
Format: DVD
Region: 0 (worldwide) NTSC
Running Time: approx 80 min
4:3 Full Screen
Color
Rating: NR