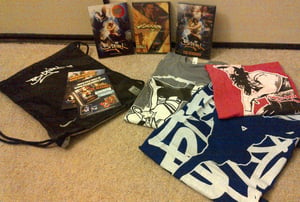 $

50.00
ALL OF IT. Everything B-GIRL in one pack!
Includes:
Official B-GIRL DVD
B-GIRL: THE SESSIONS Limited Edition Behind the Scenes DVD
B-Girl "The Short Film" (where it all started!)
B-Girl T-Shirt (choose from Women's pink style, Men's blue style or grey Street Team edition - careful, quantities are VERY limited).
* T-shirts are all American Apparel 100% cotton *
Nike B-Girl string backpack, created by Nike for the B-GIRL Premiere and included in the Whole Shebang kit ONLY while available. Less than 20 around!